Cathedral in Letterkenny, Donegal
This is the Cathedral of Ss. Eunan and Columcille in Letterkenny, Donegal, Ireland. A-Wee-Bit-of-Ireland.com offers baby gifts, including Irish linen made in Letterkenny, County Donegal, Ireland and baby blankets made in Ireland.
According to
https://en.wikipedia.org/wiki/Cathedral_of_St._Eunan_and_St._Columba
There are 12 bells in the Cathedral bell chamber. They carry the names of the saints of Tir Conail - Dallan, Conal and Fiacre, Adomnán, Baithen and Barron, Nelis and Mura, Fionán and Davog, Cartha and Caitríona, Taobhóg, Cróna and Ríanach, Ernan and Asica and Columba. The 12th bell weighs over 2 tons 5 cwts. After the Cathedral was opened the organist played "O'Donnell Abu", "St Patrick's Day", "The Last Rose of Summer", "The Wearing of the Green" and "The Bells of Shandon".
More about Saint Cartha is at https://www.a-wee-bit-of-ireland.com/eire_jul_2005/kilcar_2.html. More about Saint Columba is at http://ns2.rsok.com/columcille_and_druids.html.
Letterkenny, Donegal NEXT
Letterkenny, Donegal PREVIOUS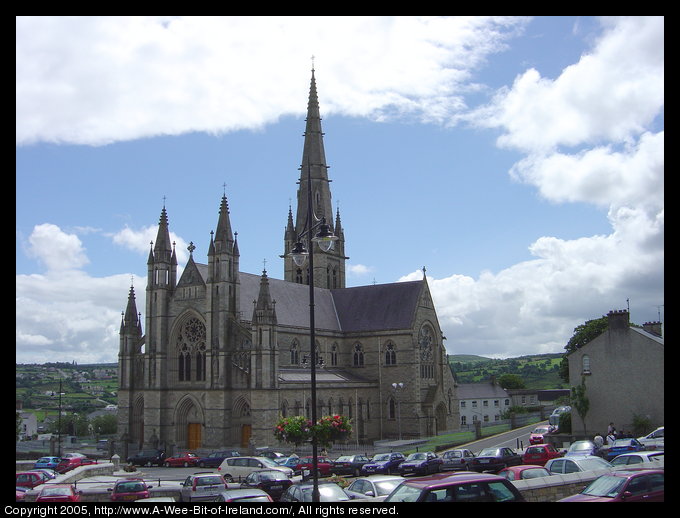 This page is on a slow server. Please be patient while the pictures load.
Copyright 2005-2009, A-Wee-Bit-of-Ireland.com