Kilcar Village, County Donegal seen through the arch of St. Cartha's church early in the morning. This church was built about 640 AD. The web page for the current St. Cartha's church is http://www.raphoediocese.com/kilcar.htm. The new St. Cartha's church is the large building to the left (north) of the road at the far end of Kilcar Village.
There is a small paragraph about St. Cartha in the book
The Martyrology of Donegal: a Calendar of the Saints of Ireland
1864
By James Michael O'Clery
page 65
Carthach, Bishop, alumnus of Ciaran of Saighir. One of his places was Druim-fertain, and in Cairbre Ua Ciardha is Druim-fertain; and to him belongs Inish Uachtair in Loch Sileann, and Cill Charthaigh in Tir Boghaine in Cinel Conaill. He was son of Aenghus, son of Nadfraech king of Munster, &c.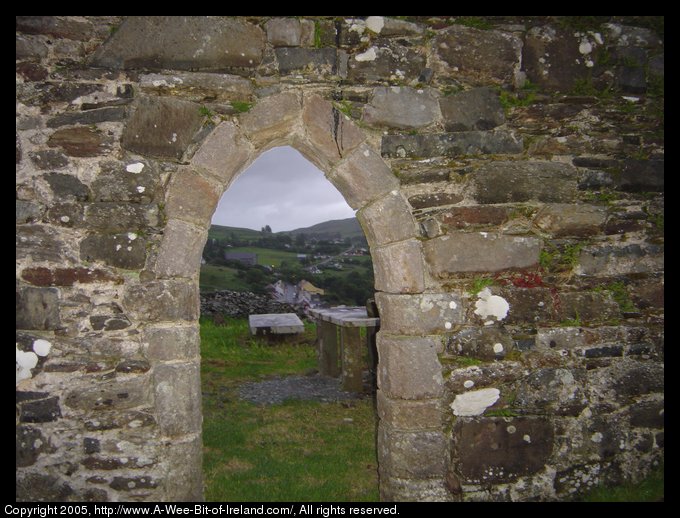 History of the Kilcar area
The translation from Gaelic to English of the Annals of the Four Masters at University College, Cork has an account of a battle near Kilcar in 1591. The spelling of some of the names of places and people has changed in the last few hundred years. For example, Doire-leathan is now called Derrylahan and Telinn is now called Teelin.
compiled by Karen O'Brien
Funded by University College, Cork and Seoirse Ó Luasa, An Caifé Liteartha, An Daingean, who donated a copy of the Annals of the Four Masters to the CELT Project.
M1590.6

The son of O'Donnell, i.e. Donnell, the son of Hugh, son of Manus, son of Hugh Duv, son of Hugh Roe, son of Niall Garv, son of Turlough of the Wine attempted to depose his father, after he had grown weak and feeble from age, and after his other son had been imprisoned in Dublin; so that Donnell brought under his power and jurisdiction that part of Tirconnell from the mountain westwards, i.e. from Bearnas to the River Drowes; and also the people of Boylagh and Tir-Boghaine. It was a cause of great anguish and sickness of mind to Ineenduv, the daughter of James Mac Donnell, that Donnell should make such an attempt, lest he might attain the chieftainship of Tirconnell in preference to her son, Hugh Roe, who was confined in Dublin, and who she hoped would become chief, whatever time God might permit him to return from his captivity; and she, therefore, assembled all the Kinel-Connell who were obedient to her husband, namely, O'Doherty, with his forces; Mac Sweeny-na-dTuath (Owen Oge), with his forces; and Mac Sweeny Fanad, with his forces; with a great number of Scots along with them. After Donnell O'Donnell had received intelligence that this muster had been made to oppose him, he assembled his forces to meet them. These were they who rose up to assist him on this occasion: Mac Sweeny Banagh (Donough, the son of Mulmurry); a party of the Clann-Sweeny of Munster, under the conduct of the three sons of Owen, the son of Mulmurry, son of Donough, son of Turlough, and their forces; and O'Boyle (Teige Oge, the son of Teige, son of Turlough), with all his forces, assembled. The place where the son of O'Donnell happened to be stationed along with these chieftains was Doire-leathan at the extremity of Tir-Boghaine, to the west of Gleann Choluim Cille. The other party did not halt until they came to them to that place; and a battle ensued between them, which was fiercely fought on both sides. The Scots discharged a shower of arrows from their elastic bows, by which they pierced and wounded great numbers, and, among the rest, the son of O'Donnell himself, who, being unable to display prowess or defend himself, was slain at Doire-leathan, on one side of the harbour of Telinn, on the 14th of September. Seldom before that time had his enemies triumphed over him; and the party by whom he was slain had not been by any means his enemies until they encountered on this occasion; and although this Donnell was not the rightful heir of his father, it would have been no disgrace to Tirconnell to have elected him as its chief, had he been permitted to attain to that dignity. In this conflict were slain along with Donnell the three sons of Owen, son of Mulmurry, son of Donough above mentioned, together with two hundred others, around Donnell.
More about Saint Cartha
Also in the Annals of the Four Masters is an account of the death of the father of St. Cartha.
M489.3

Aenghus, son of Nadfraech, King of Munster, fell in the battle of Cell Osnadha fought against him by Muircheartach Mac Earca, by Illann, son of Dunlaing, by Ailill, son of Dunlaing, and by Eochaidh Guineach, of which was said:

Died the branch, the spreading tree of gold,
Aenghus the laudable, son of Nadfraech,
His prosperity was cut off by Illann,
In the battle of Cell Osnadha the foul.

Lives of Irish Saints, Translated by Charles Plummer, Volume II, Oxford, 1922

ix




(26)

Once upon a time an officer of the king of Munster was traversing the district of Muscraige, and found a pig belonging to a holy man named Cain, and the officer killed the pig, and carried it to a wood and set it on the fire. And as he was seething it there, kernes came upon him and slew him, and twenty of his company with him, on the bank of the river Brosnach; and they departed forthwith, and did not see the pig on the fire.

(27)

This was revealed to Ciaran, and he went to where his forsterling was, to wit Carthach son of Aengus, son of Nadfraech, with a view to taking up the bodies that the wolves might not eat them and carrying them to his own place. And when Ciaran saw the number of the bodies, and that he had no means of transporting them, he said: "In the name of Jesus Christ, rise up on your feet and come with me to my church." And they arose forthwith, the prefect and his company, whole and sound; and he also restored the pig to life, and it went off to its own master.

(28)

So that noble company came with Ciaran; and this was Foda son of Forax and his family that were there, and they submitted to Ciaran together with their seed, and offered themselves to him entirely (lit. from the beginning) and were buried in his cemetery (lit. at him).

(29)

A little while afterwards a captain of Aengus son of Nadfraech named Mac Ceisi was slain; and Ciaran prayed on his behalf, and he was restored to life, and went away whole.
Dictionary of national biography, Volume 9 By Leslie Stephen, Sidney Lee

CARTHACH, SAINT, the elder, (d. 580?). appears in the 'Felire' of (Engus the Culdee (10th cent.) with the epithets of royal and Roman attached to his name (ed. Stokes, p. lv). This is generally interpreted to mean that he was of royal ancestry and had travelled to Rome [cf. CAINNECH, SAINT]. From the 'Vita Kierani' (Bollandist A. SS., March, v. 395) we gather that he was the grandson of Angus, king of Munster, who would seem to be the king whose death is recorded in the 'Four Masters' under the year 489. Colgan, however, noting that he was the brother of St. Cuanna, quotes from an old genealogy to show that he was the great-grandson of Neill of the Nine Hostages (A. SS., 249-51), who died about the year 405, (but cf. the Leabhar Breac notes to Angus, p. lx).>/p>

In the 'Vita Kierani' St. Carthach appears, before the death of St. Patrick, as one of St. Ciaran of Saighir's young disciples (p. 395); but there are some difficulties in the way of accepting this statement in its entirety (Dict. of Christ, Biog. i. 410). We read that Carthach became engaged in an intrigue with a certain nun, in punishment for which offence St. Ciaran enjoined on him the penance of foreign travel. On his return he seems to have joined St. Ciaran once more, and is said to have been appointed his successor at Saighir, perhaps about the year 550 (ib. i. 544). It may have been a few years later than this that he found his namesake, the younger Carthach, on the banks of the Mang (? Mainne) in Kerry and ordained him priest. From the latter saint's life (A. SS., 14 May, 379), we learn that it was the habit of St. Carthach to traverse his diocese singing the Psalms, in alternation with his accompanying priests. Dr. Lanigan would date the first friendship of the two Carthachs about the year 577, assigning 580 as an approximate date for the elder Carthach's death. It is evident, however, that this is hardly consistent with the admission that he was already one of St Ciaran's disciples before 490. St. Carthach's principal church was at Saighir in King's County, where he succeeded St. Ciaran. To this the authors of the 'Acta Sanctorum' add (from the 'Martyrology of Tamlacht') a church at Druim Ferdhaimh, a place which, according to the same authority, Marianus O'Gorman located at Carbery in Kildare. A third church was at Inis Vachtair on Lough Silenn (Leabhar Breac, ap. Stokes's 'Angus,' p. lx), and perhaps a fourth at Inis Carthach, near Lismore (A. SS., 393). The 'Dictionary of Christian Biography' adds a fifth at Tir-Boghaine (Banagh Barony) in Tyrconnell (i. 411); and Mr. Shearman a sixth dedication at Cill Carthach, now Kilcar in Donegal (Loca Patriciana p. 298; for other churches in Ossory possibly founded by this saint. Kilmocar, Kilmogar, and Stamcarty, see the same writer). St. Carthach is said to have been the father of St. Molua (Leabhar Breac). There seems to be an unvarying tradition that makes him the tutor of St. Carthach the younger; but as regards the details of his life there can be no absolute certainty. [See remarks on ST CAINNECH.] His day is 5 March.
This page is on a slow server. Please be patient while the pictures load.