Hore Abbey
Hore Abbey was founded by Cistercians in 1266. It is near Cashel in County Tipperary. A statute concerning Hore Abbey from 1942 is here. I took another photo of Hore Abbey in May 2007.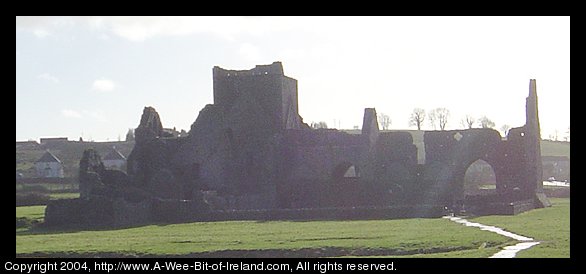 A sign next to Hore Abbey Says:
Hore Abbey was originally of the Benedictine Order. In 1272, however, Archbishop David McCarvill of Cashel, having dreamed that the monks made an attempt on his life, violently disposessed them of their house and lands. He brought the Cistercians from the important monastery at Mellifont in County Louth to found a new Cistercian Abbey and he himself took the habit of that order.
This page is on a slow server. Please be patient while the pictures load.
Copyright 2004-2008, A-Wee-Bit-of-Ireland.com