Grianan of Aileach Ring Fort
This is the Grianan of Aileach in County Donegal, Ireland. It is also called "Grianán Ailigh". The fort was closed for construction on the day that we were there, but there were wonderful views to be seen. There was a controversy in Ireland over whether the construction is saving the fort or ruining it. Lough Swilly is in the background in this photo. An online encyclopedia entry about this ring fort is at http://en.wikipedia.org/wiki/Grianan_of_Aileach. We photographed another ring fort in County Donegal in 2005 and a ring fort in County Kerry in 2007.
The sign nearby says:
Grianan Ailligh

This large stone-walled fort, located on a hilltop commanding views over Loughs Foyle and Swilly and Counties Donegal, Derry and Tyrone, was the royal citadel of the Northern Uí Néill from the 5th to the 12th century. It was probably built some time around the birth of Christ. Its builders may have been attracted to this hilltop site by the presence here of a sacred monument -- a prehistoric burial mound or tumulus, possibly from the Neolithic period (about 3000BC).

A lintelled passage through the 4.5m thick wall leads to the interior where the wall rises in three terraces to a height of about 5m; there are also two long passages contained within the thickness of the wall. Substantial restoration work was carried out in 1870. We know little about the three earthen banks which circle the Grianan, but they could be part of an earlier Bronze Age or Iron Age hillfort. The trackway running through these banks and leading to the fort is believed to be an ancient roadway.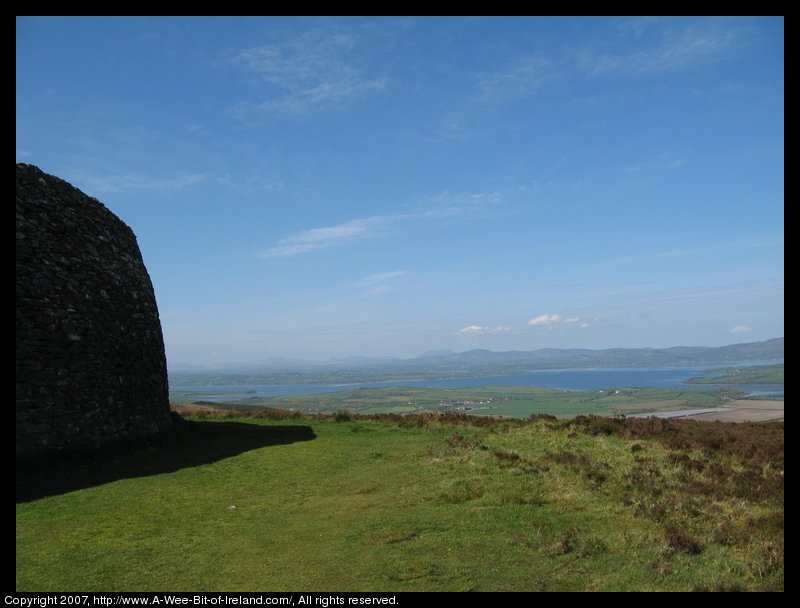 This page is on a slow server. Please be patient while the pictures load.
Copyright 2007, A-Wee-Bit-of-Ireland.com