Classiebawn Castle on Mullaghmore Head was completed by the first Lord Mount Temple in 1874 and later descended to the Mountbattens. Now privatedly owned and not open to the public.
More about Classiebawn Castle is at http://www.sligoheritage.com/archirishvillage.htm.
Next photo of Mullaghmore Head.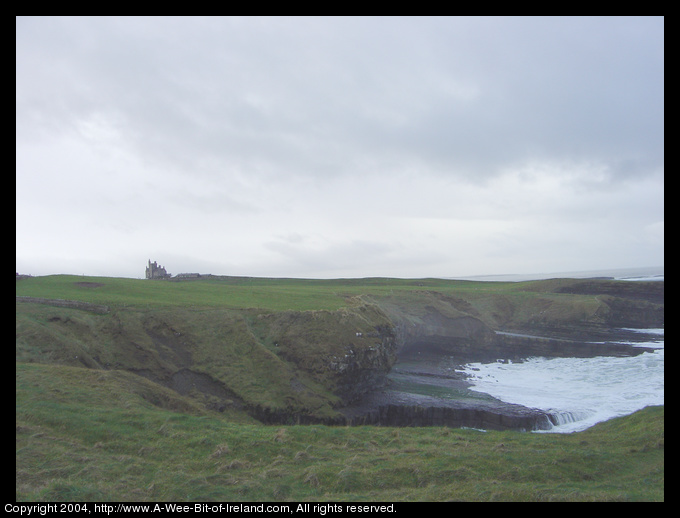 In a history book, Europe: a History, by Norman Davies, 1996, ISBN 0-06-097468-0, page 809 , I found the following about the family that owned this castle:
Married to Queen Victoria's favorite granddaughter, Victoria of Hesse, Count Louis Battenberg (1854-1921) was a cousin on the paternal side both to Alfred, Duke of Edinburgh and to Tsar Alexander III, and brother-in-law to empress Alix. Having joined the Royal Navy as a cadet, he worked his way up to be Admiral, Director of Naval Intelligence, and at the outbreak of war in 1914, Britain's first Sea Lord. Unfortunately as a German, he was immediately forced to retire. By then, his elder daughter had become Queen of Sweden and his younger daughter, Alice, a Princess of Greece. His niece was Queen of Spain. His younger son, Louis (1900-1979), known as "Dikie", later Earl of Burma, was to follow him into the British Admiralty. In July 1917 the family name was changed once again, this time from Battenberg to Mountbatten. Their Romanov relatives were under arrest, and their relatives in the House of Saxe-Coburg-Gotha-Hanover-Teck were hurriedly renaming themselves "Windsor".
This page is on a slow server. Please be patient while the pictures load.