Gartan-Rath
This church in Co. Donegal was built by Manus O'Donnell to honor his relative, St. Colmcille. The sign says:
Colmcille's kinfolk gave this fort to him as the site for a monastery. The outer wall of the court is still visible.
At the convention of Druim Cett in 575, St. Columcille (also called St. Columba or Colum Cille) interceeded to stop the banishment of the poets. The title "poet" in this case may refer to those who maintained the oral histories of the druids. As late as 1539, a treaty between Manus O'Donnell and O'Connor Sligo included satire by the poets and excommunication by the Church as punishments for breaking the treaty. As a result, more of the pre-christian oral histories may have been preserved in Ireland than in other parts of Europe. This site is near the birthplace of St. Columcille.
A translation of "The Life of St. Columba" is at University College Cork.

Co. Donegal NEXT
Co. Donegal PREVIOUS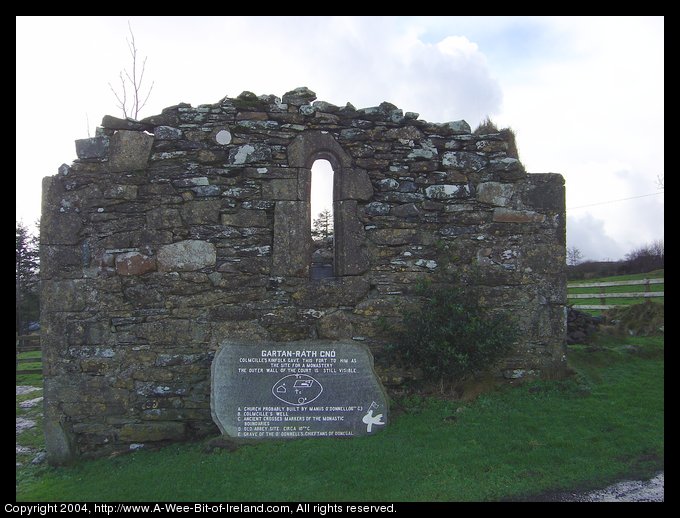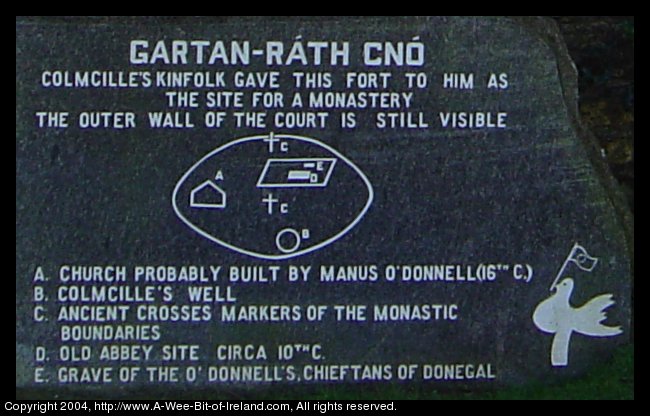 This page is on a slow server. Please be patient while the pictures load.
Copyright 2004-2006, A-Wee-Bit-of-Ireland.com