Gallarus in County Kerry
This is a photo of a cross stone next to Gallarus near Clogher in County Kerry. One of the stones is inscribed "COLUM MAC DINET" in ogham script according to some archeology papers. The wall behind the cross stone was once the boundary between Gallarus and Ballynana townlands. More about the stone is at University College London Institute of Archeology and may be found by searching their Celtic Inscribed Stones CISP database for "GLLRS".
Next photo from Slea Head scenic drive. Previous photo from Slea Head scenic drive.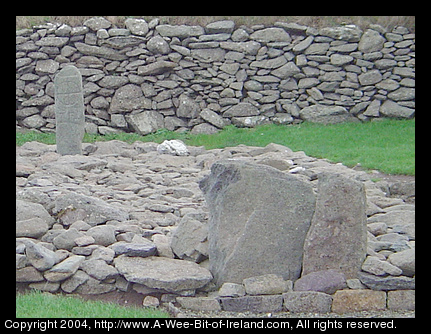 This page is on a slow server. Please be patient while the pictures load.
Copyright 2004-2006, A-Wee-Bit-of-Ireland.com