Thanks to Choctaw Nation
This plaque is in the famine graveyard in Donegal Town, Donegal, Ireland. It commemorates the gift of the Choctaw Nation of Oklahoma during the great famine of 1847. Unfortunately, the following link has stopped working. http://www.choctawnation.com/history/choctaw-nation-history/choctaws-helped-starving-irish-in-1847-this-act-shaped-tribal-culture/ But. there is some information at: http://www.irishfamine.ie/heroes-of-the-great-irish-famine/
On March 23, 1847 the Indians of the Choctaw nation took up a collection of $170 for Irish Famine relief – an incredible sum at the time. This was particularly poignant given their own history of enduring deprivation themselves. In 1831 the Choctaw Indians were forcibly removed from their ancestral lands in Mississippi to what is now known as Oklahoma. The Choctaws were the first of several tribes to make this difficult trek or Trail of Tears as it became known. The years during and immediately following this journey, were very difficult for the tribal people. Many of the Choctaws did not survive the trip, and those that did faced hardships establishing new homes, schools, and churches. Only 16 years after this journey, the Choctaws learned of the famine in Ireland. As the Choctaws themselves had faced hunger and death on the first Trail of Tears, they felt a great empathy with the Irish people. These Choctaw people, who had such meagre resources, gave all they could on behalf of others in greater need.
And more at:
https://www.choctawnation.com/news-events/press-media/choctaw-irish-bond-lives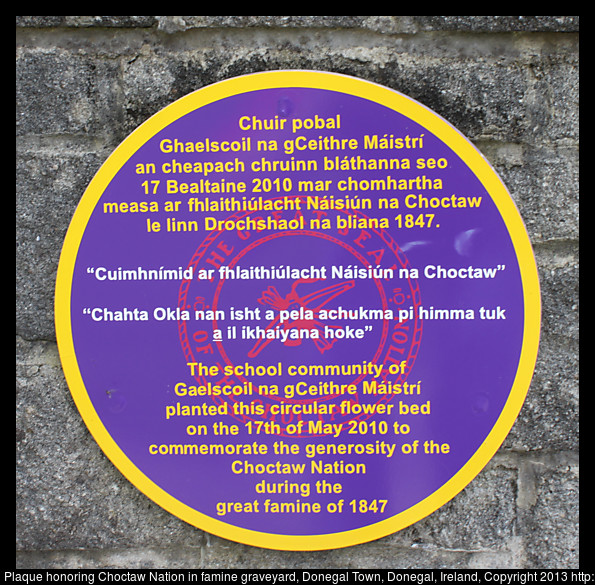 This page is on a slow server. Please be patient while the pictures load.
Copyright 2013, A-Wee-Bit-of-Ireland.com