Stroove Mosaic
This is a mosaic of photos made on August 4, 2013 and combined later. The place is near Moville, Inishowen, County Donegal, Ireland.
I made the photos standing near GPS coordinates (55.2362111,-6.9276901).
A legend associated with this place says that Columbcille (also called St. Columba) stopped here for one last look at Ireland before exiling himself to Scotland.
A sailing web page gives the coordinates of Portkill as (55.2401667,-6.9324665). https://eoceanic.com/sailing/harbours/171/portkill (retrieved August 13, 2018) says:
The name Colm Cille, also known as Columba or Calum Cille (Scottish Gaelic), the name 'is itself derived from old Irish 'colum cille' meaning 'dove of the church'. The saint lived from 521 - 597 AD and was born of royalty on his father's side, he was the great-great-grandson of Niall of the Nine Hostages, a key 5th-century Irish high king. Despite his noble lineage Colm Cille was ordained before he was twenty-five and became one of the Twelve Apostles of Ireland who studied under St Finian at his famous monastic school Clonard Abbey at Cluain-Eraird, meaning Eraird's Meadow, now Clonard in County Meath. He spent the next fifteen years preaching and setting up foundations at Derry before becoming one of the of the most effective Gaelic Irish missionary monks. At the age of 42 he departed Derry for the part of the kingdom of Dal Riada, or Dalriada, that existed on the Scottish side of the Irish Sea. Petitioning the king he received permission to build what was to become a world-famous monastery on the island of Iona off the coast of Scotland. Once established he then advanced to the east side of Scotland to convert the Picts and lead the introduction of Christianity to Scotland as a whole.

In 563 A.D., en route to Scotland by 'curragh' from Derry, he and his accompanying 11 monks called in at Portkill to take in water from the spring on the beach. After coming ashore St. Columcille climbed the bank to the top of the hill. There he took one last look at his beloved homeland called Cnoc an Leactha above. Having said farewell to his beloved Derry, he returned to the shore where he blessed the well and cut the cross on the stone with his finger.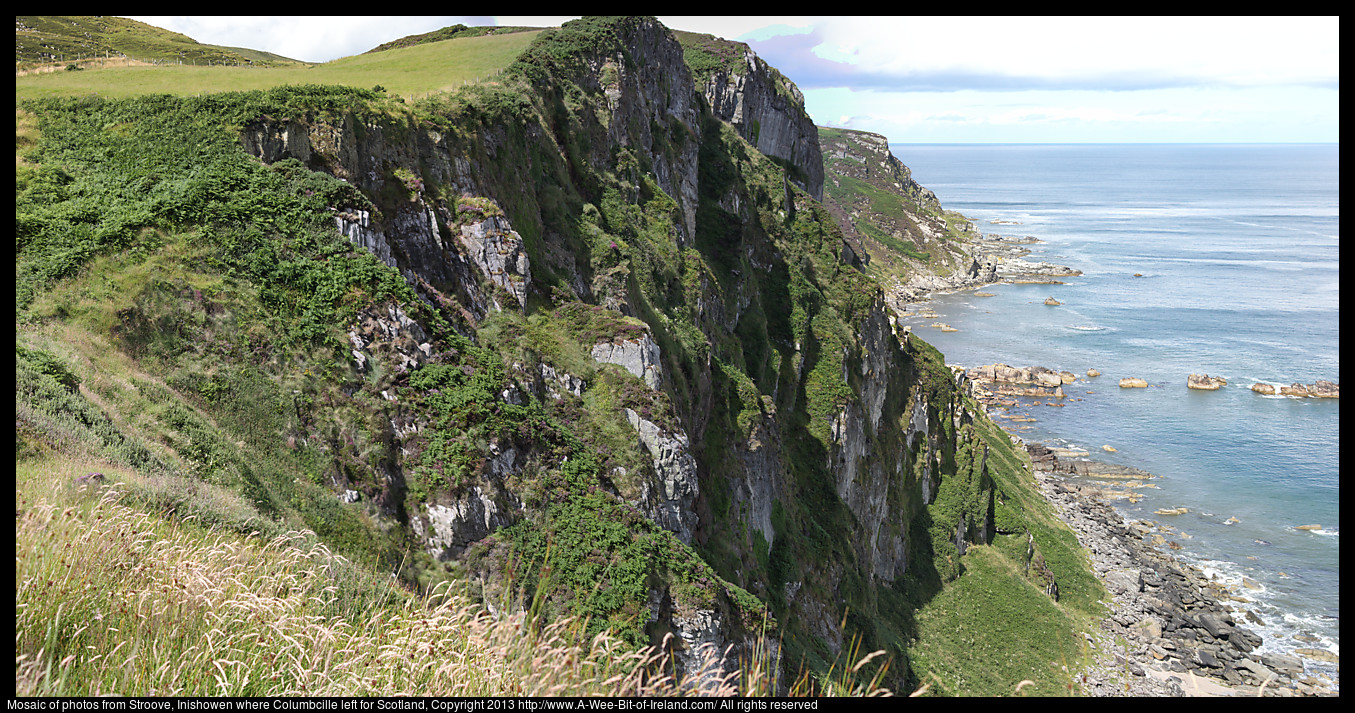 This page is on a slow server. Please be patient while the pictures load.
Copyright 2013, A-Wee-Bit-of-Ireland.com