Slea Head Scenic Drive in County Kerry
This is the alphabet stone at Kilmakedar (Cill Mhaoilcheadair). The Roman alphabet is on one face with the Ogham alphabet on the corner.
Next photo of Slea Head Scenic Drive. Previous photo of Slea Head Scenic Drive.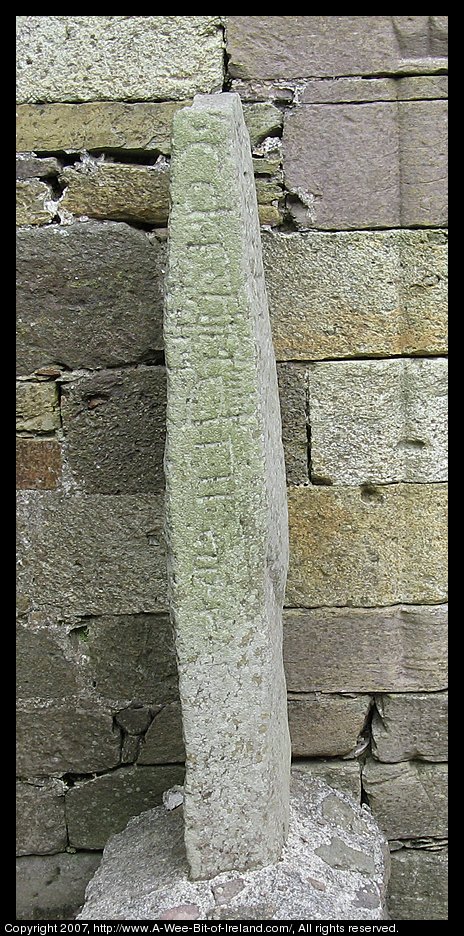 http://www.ucl.ac.uk/archaeology/cisp/database/stone/kmkdr_2.html
Celtic Inscribed Stones Project (CISP)
UNIVERSITY COLLEGE LONDON

Okasha/Forsyth/2001, 165--166: `The stone was recorded and drawn by Pelham in 1804 and by Chatterton and Windele in 1838. Pelham described it as standing in the churchyard, `about five yards from the church door ... but Windele gave more detail. It was then standing `Facing the West door of the Church' and `8 feet to the West of the door' ... with the inscribed face of the stone described as the `Western face of the Stone facing the door' ... This seems to indicate that the stone was then inside the west door of the church. ... By 1877 the stone was certainly in the churchyard: Quinn illustrated the stone with two photographs ... but with it in slightly different places. ... By 1892 the stone was `lying about in the churchyard at Kilmalkedar utterly uncared for', which may or may not indicate that it had been moved again. It remained in the churchyard for many years but by 1975 was again inside the church ... By 1982 it was in its present position as Hamlin's photograph shows'.

Cuppage et al/1986, 311: `The S face is inscribed with a Latin cross with scrolled terminals. Above this a small part of a cross-in-circle motif is visible, the cross probably having similar scrolled terminals to the one beneath. Only the scrolled terminal and the stem of the cross on the N face survive.'
This page is on a slow server. Please be patient while the pictures load.
Copyright 2007-2008, A-Wee-Bit-of-Ireland.com