Slea Head Scenic Drive in County Kerry
This standing stone at Kilmakedar (Cill Mhaoilcheadair) has a hole in it through which people would touch fingers to conclude an agreement.
Next photo of Slea Head Scenic Drive. Previous photo of Slea Head Scenic Drive.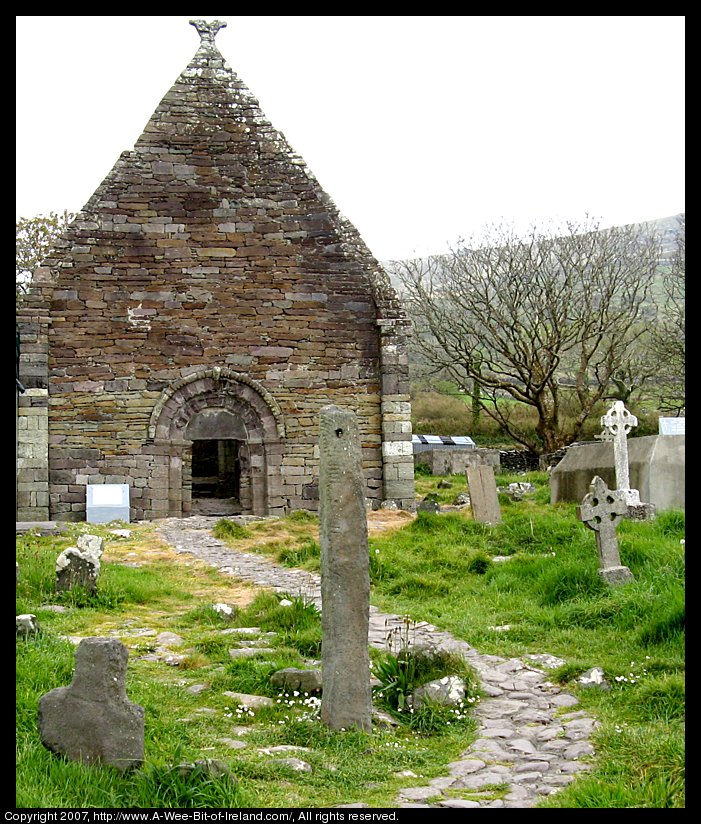 http://www.ucl.ac.uk/archaeology/cisp/database/site/kmkdr.html
Celtic Inscribed Stones Project (CISP)
UNIVERSITY COLLEGE LONDON

Cuppage et al/1986, 308: `The early Christian and medieval ecclesiastical complex at Kilmalkedar lies at the foot of the W. slopes of Reenconnell hill, overlooking Smerwick Harbour'.

Okasha/Forsyth/2001, 171: `The early Christian and medieval site at Kilmalkedar covers a large area ... Although reputedly founded by Maolcethair in the seventh century, the site is associated with St Brendan. The church was probably built in the mid twelfth century and remained important throughout the medieval period. Existing remains from the early Christian period include a corbelled building, perhaps a cell, some 50 m from the church, an ogham stone, the sundial stone, a plain stone cross and some bullaun stones. There is also St Brendan's oratory, situated some 400 m from the church. Existing buildings dating from medieval times include the Romanesque church with some fine architectural sculpture, St Brendan's House and the Chancellor's House. There are also two wells and a number of cross-inscribed stones in the graveyard'.
This page is on a slow server. Please be patient while the pictures load.
Copyright 2007-2008, A-Wee-Bit-of-Ireland.com