Slea Head Scenic Drive Collapse in County Kerry
The cliff collapsed into the ocean on April 8, 2007. I took this photo on April 29. The temporary road was open by April 13. This happened so quickly because of the importance of the road to tourism.
Next photo of Slea Head Scenic Drive. Previous photo of Slea Head Scenic Drive.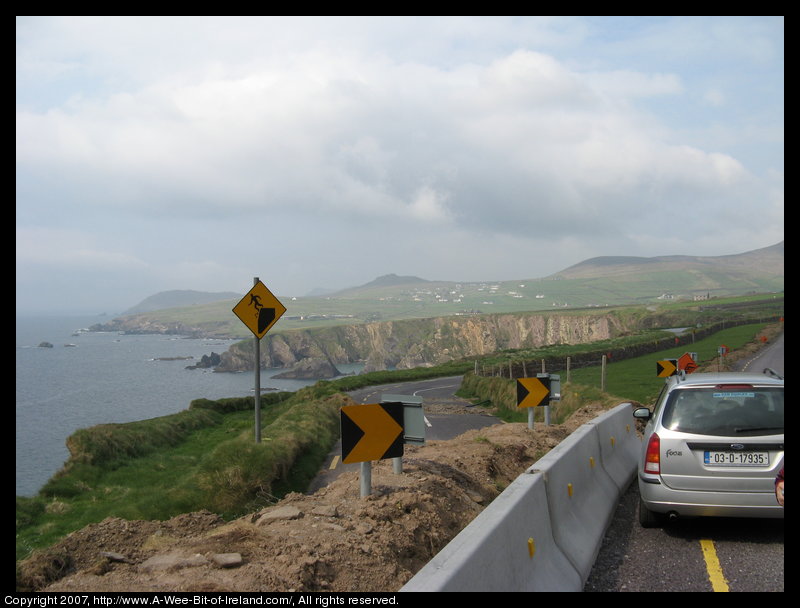 TCM Archives > The Kingdom > 2007/04/12 > Tourist trade chaos as landslide closes route
http://archives.tcm.ie/thekingdom/2007/04/12/story23842.asp
had the story, but now the link is broken. Thursday, April 12, 2007

Tonnes of earth, clay, shale and rock fell from the underside of the road, on the Slea Head side of Dunquin, close to the local cemetery, at about 7pm on Sunday.

A tourist taking pictures at the site had a lucky escape when part of the cliff face fell away and caused four long cracks on the road.

Local boat skippers operating from the nearby Dunquin Pier, who witnessed the collapse, raised the alarm and Gardaí immediately closed the road.
This page is on a slow server. Please be patient while the pictures load.
Copyright 2007-2013, A-Wee-Bit-of-Ireland.com