This is Caherconree Mountain in County Kerry. I walked up to the promontory fort on May 3, 2007. This is the view from inside the fort toward Castlemaine and Killorglin, Kerry.
The elevation is about 2050 feet and the wall is about 110 meters long. The wall defends the part of the promontory that is not naturally defended by steep cliffs. At the time the fort was built, it must have been a harsh environment at the top of this mountain. The maximum height of the wall is now about 3 meters and the maximum width about 4.5 meters. The wall forms part of the boundary between the Barony of Corkaguiney and the Barony of Trughanacmy.
Most of this information comes from Archeological Survey of the Dingle Peninsula
by Judith Cuppage
Oidhreacht Chorca Dhuibhne, Ballyferriter, 1986
which was loaned to me by the owner of Hannafin's Bar in Annascaul, Kerry.
According to ledgend, Cú Roí mac Dáire lived in this fort. Cú Roí mac Dáire is also mentioned in Táin Bó Cúailnge. There is an on line encyclopedia article about Cú Roí mac Dáire at wikipedia.
More photos of Caherconree. Next photo of Caherconree. Previous photo of Caherconree.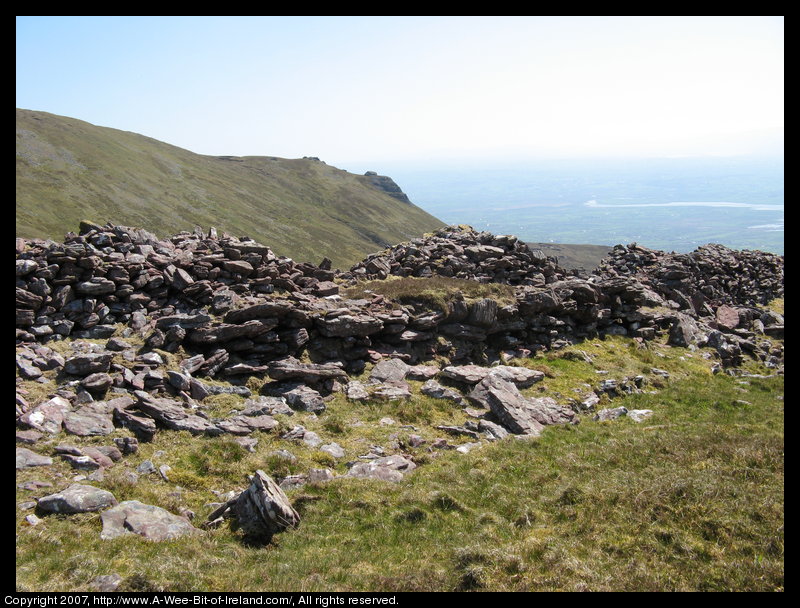 This page is on a slow server. Please be patient while the pictures load.